You may have heard that Google is planning an update for April 21 to how they determine what websites to display when someone does an online search. Below is a high level overview so you can understand how this may affect you, and what you can do to improve your appearance in the Google search results.
Google will be using mobile-friendliness of a website as one factor to determine which websites are most relevant when someone searches on a mobile device (like an iPhone).
Mobile-friendly websites are designed to make it easy for a visitor to read and navigate your website on a mobile device, such as an iPhone. Larger font, bigger buttons, etc.

Mobile-friendly websites will be given more "SEO points" than websites that are not mobile friendly.

Whether a website is mobile-friendly or not is not the only determining factor in what websites are displayed. Your website should still have unique, quality, relevant content that is of interest to the person searching.

This change will not affect people searching on a regular (desktop) computer.
You can determine whether your website is mobile-friendly by using this Google tool.

You can read the full release by Google here.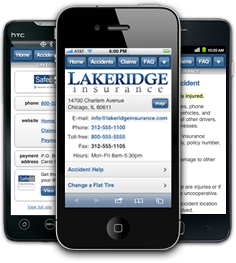 We offer a mobile-friendly version of Banyan Theory websites as part of our Choice, Premium and Signature packages, as well as an add-on with the Select package. Find out how affordable a new mobile-friendly insurance agency website can be with an instant online quote.
If you're interested in making your website mobile-friendly, let us know!