If you use a credit card to pay your business expenses, chances are you are also earning points back on everything you spend. Whether those points are redeemable for cash back, merchandise, gift cards, or travel expenses, they can really start to add up.
At Banyan Theory, we've started a program to use those points to help causes we're passionate about. It's a pretty simple program, and I wanted to share it in hopes that other business owners would consider implementing something similar.
Here's how it works
I redeem our credit card points periodically for gift cards at stores I normally shop at for basics and items I'd be buying anyway (Amazon.com for diapers, Target for groceries, etc).

I personally use the gift cards for stuff for my family - just like any other gift card. For tax reasons, I don't use them for business expenses, since I wouldn't be able to deduct the expenses paid for with the gift cards.
With our particular credit card, the points go further (have a higher cash value) when redeemed for gift cards than they do for cash back towards purchases, merchandise or travel.

Next, we divide up the cash value of those gift cards among us, and each of us gets to choose a cause or charitable organization that we'd like to donate to.

If the chosen cause benefits the most from a cash donation, I make the donation using our business credit card (which in turn, earns more points for the next cash-in).
Some causes may benefit more from in-kind gifts or supplies, in which case we'd purchase the supplies with said credit card. Again, more points for next time.
Since this was the first year we did this, we had quite a few credit card points racked up. $1,250 worth!
Here's how we chose to contribute to organizations making a difference this year:
---
Allison chose to donate $625 to HappyBottoms, a Kansas City area diaper bank that partners with social service agencies to provide diapers to low-income families in the area.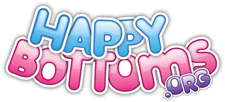 Why I Choose HappyBottoms

As many of you know, I've welcomed 2 beautiful girls into our lives in the last 4 years. With 2 kids only 18 months apart, I buy diapers a LOT. As a matter of fact, I used some of those gift cards mentioned above on diapers. I've been fortunate enough to never have to choose between buying diapers or buying food. Or felt the guilt of having to leave one of my girls in a wet diaper a little longer because I worried I didn't have enough diapers to get through the rest of the week. However, many families in the country do face those stressful decisions every single day.
SNAP (food stamps) and WIC programs do not cover diapers (this is appalling!)
1 in 3 families in America struggle with having enough diapers to keep their babies happy, healthy and dry (that's way too many!)
A 2013 study in the Journal of the American Academy of Pediatrics found that moms who experience diaper need are twice as likely to suffer from depression and stress, because they struggle to meet their baby's needs. The study found this stress ranks even higher than food insecurity (this is heartbreaking!)
HappyBottoms is able to purchase more diapers through their purchasing partnerships. Each dollar can supply 10 diapers to a family in need. We're happy to know that our donation provided over six thousand diapers to KC families this winter.
HappyBottoms is a local KC organization, but there are diaper banks all over the country. If you're interested in learning about how you can provide support for a diaper bank in your area, you can find one on the National Diaper Bank Network website.
---
Andrew chose to donate $625 to the Alzheimer's Association of Kansas City, a nonprofit that focuses on research, support, and care of patients and families of loved ones suffering from Alzheimer's and dementia.


Why I Chose The Alzheimer's Association

As the husband of a neurology nurse, and the grandson of two wonderful women suffering from Alzheimer's, it's needless to say that this cause is close to my heart.
Currently, there is no known cure for Alzheimer's, and specialists are just now developing tests that may be able to successfully diagnose the disease (rather than through process of elimination). Researchers and doctors have made a lot of progress, but there is still much to be learned.
Although there is no known way to reverse/stop the disease, there are medications and supplement plans that can drastically help reduce the disease's advancement. The Alzheimer's Association allocates 79% of donations purely to research, care, support, and advocacy, which can help improve the quality of life for individuals living with the disease today, as well as potentially help reverse the disease in the (hopefully near) future.
The Alzheimer's Association helps by providing:
Care and Support - community programs, 24-hour helplines, assistance finding care options & facilities, as well as research and references
Research - diagnosis, causes, and potential cures
Advocacy - public awareness, congressional support, and data collection
In 2016, the Alzheimer's Association was able invest almost $25 million across 135 scientific research studies. If you'd like to take part in finding a cure, check out www.alz.org and find your local chapter.