We've been hard at work on a complete overhaul of our LightRail system used by thousands of insurance agents every day to view messages and quote requests and manage their websites. We have some pretty grand plans for where we'd like to continue to improve LightRail, but we're really excited about this initial release.
We made improvements to nearly every feature inside LightRail, and we gave everything a new and clean, modern look.
Here's a sneak peak at what you'll see when you first log in when it's launched: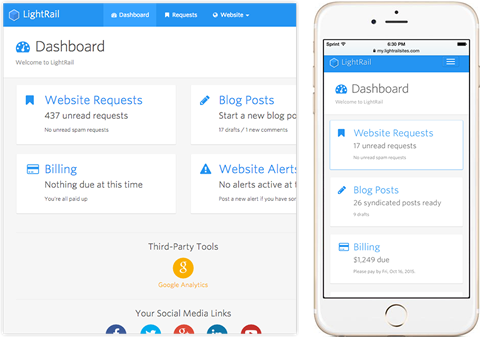 Some of the features I know you'll be excited about:
It's all mobile-friendly. Using responsive design, we've made it super easy to access your website messages and make quick updates to your site from your smartphone.
Tag your website requests to organize them – tag them with the name of the person working it, with the type of request, with the office it's closest to – whatever works best for your agency.
Quickly activate a website alert banner with pre-written templates with a single click. Customize the text and just turn it on. You can even set an expiration date for the message so you don't have to log back in to turn it off later.
Want to embed a YouTube video in your blog post? Just copy the URL of the video from your web browser and paste it into the blog article. It automatically converts it into a video player so your visitors can watch it right on your website.
Adding an image to your blog is much easier now. Drag and drop it, copy and paste it, or upload and click to place it.
That's just a short list of the improvements coming in October. I know you'll be excited to see the new stuff. We're excited too, and we're looking forward to continued enhancements throughout the rest of 2015 and into 2016.