If you receive an email that looks like this (or has similar messaging), do not reply; you can delete the email, as it's a scam.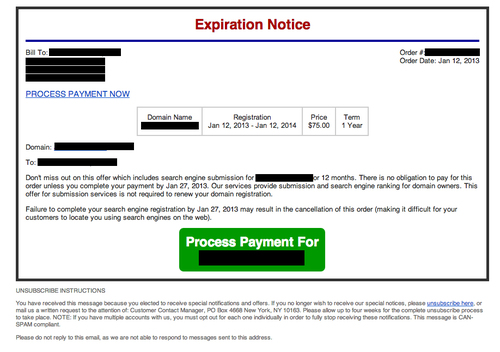 This is a company offering to submit your website to search engines (Google, Yahoo, Bing, etc) for $75/year. It has nothing to do with your domain name registration (which you pay annually to your domain registrar).
Submitting your website to search engines is a simple, painless process that should never be charged for, let alone $75/year. And in fact, you only have to do it once when you launch a new website (not repeatedly, as this email implies).
If you have a Banyan Theory website, we took care of the search engine submission for you when we launched the website (at no extra charge).
It's important to note that if you receive an "expiration" notice regarding your domain registration from your domain registrar you should pay close attention to see if action is needed on your part to renew your domain. Failure to renew your domain could result in 1) loss of your domain name, as someone else may register it; 2) downtime for your website; and 3) downtime for email. I've seen it happen, and it can be very messy to resolve, and usually results in quite a business interruption.
It's unfortunate that businesses use the need to renew your domain with your registrar by trying to trick you into giving them your money. Your best defense is to read the fine print carefully before taking any action. If you're unsure, feel free to forward the email to your Banyan Theory Account Manager, who will be happy to take a look and let you know if the email is legit.