Ever wondered how to get your insurance agency listed in Google search results with other local agents?
The trick is to claim and optimize your Google Place Page
. While this isn't a silver bullet, it will certainly help your agency rank higher (and possibly in the top 3-10 local listings) when someone searches for "[your city] car insurance". In this article, I'll walk you through finding, claiming and optimizing your Google Place Page.
A Google Place page is your local listing with Google. Every business that has a physical office has one, even if you haven't created it yourself. These pages are used by Google to show local businesses in the search results. They can be identified by the results that have the red balloon under the website.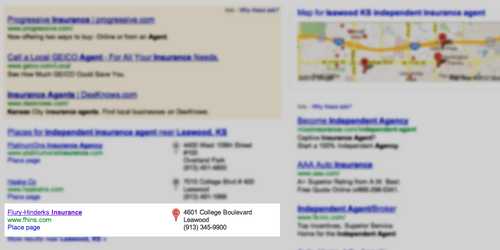 Why These Pages Are Important
As you can see, these local listings show up at the top of the search results. That means the top few spots in any local search are reserved for the best (most relevant) local listings. If you have a potential customer searching for "Dallas TX Insurance Agent", they are going to be showing the best Google Place pages first, followed by all the regular organic listings second.
Step 1: Find & Claim Your Google Place Page
Visit www.getlisted.org.GetListed will show you all the major places to have a local listing claimed and optimized, for this article, we're going to focus on Google, which receives the most search traffic.
Enter your business name and zip code and click "Check My Listings"
Click on "View additional details" under the Google listing on the results displayed to the right of your name


If your listing is not yet claimed, click "Claim This Listing at Google." (If you see "Edit this listing" instead, then skip to Step 2: Optimizing Your Google Place Page."

When claiming your page, you'll have to verify you are the actual business owner. You have 2 options for this: via a phone call or via mailed postcard. The mailed postcard can take weeks. The phone call? Almost instant. Definitely choose the phone call method, just make sure the phone number shown on your listing is correct first!
Step 2: Optimize Your Google Place Page
Once you've claimed your Place Page, it's time to expand on your business information. Tell your audience (your customers, potential customers, and Google) more about your agency.
Confirm your contact information. Google will update your address syntax to match its database (meaning it may change "Ste" to "Suite"). Once you have confirmed your address on your Google Place Page, update your website so that the information matches exactly - word for word, space for space. Also be sure your phone number and company name are correct and match what you use on your website. This helps Google relate and tie your listing to your agency website, which will help your website rank higher too!
Add your logo. Choose a version of your logo that is on a completely white background, and if you have it, a version that is large enough that it doesn't have to be stretched to fill the space. This will ensure it doesn't look "fuzzy" or distorted.
Choose Categories. Enter categories that accurately describe your business. Use ones that can stand alone. So "life" isn't as good as "life insurance". Even better, narrow them down to your city or state, using something like "Dallas TX life insurance".
Update your Description. Enter a short description (2-3 sentences) describing your agency and what sets you apart. Try to work in 1 to 2 keywords that you want to rank highly for on Google. Be sure to work them in naturally into a sentence. If it doesn't read like a "real" sentence that you would speak, then re-word it until it does.
Add photos. If you have a photo of your office building, your staff or even of yourself, upload them to your Place Page. Stock photography is OK (and better than nothing), but not as good as using your own photos.
Add videos. Insurance companies like Safeco and Travelers have their commercials about independent agents and their products available on YouTube that you can embed if you are appointed with them. You can also look to industry sources like iii.org to obtain permission to use their videos (which are hosted on YouTube as well). Just be sure you're not using any content without the owner's permission.
Get Reviews. Ask your customers to provide reviews on your Google Place Page. Send willing customers a direct link to your page so they don't have to search for it. Google ranks pages with more positive reviews higher than those without any.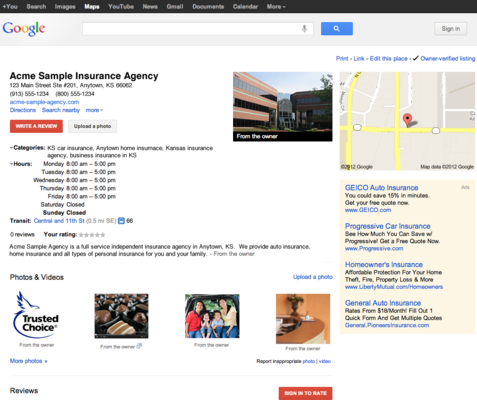 That's it! You're done claiming and optimizing your Google Place Page. I also recommend coming back every month and adding or updating something new - a photo, video or category, or changing your description up a little. And don't forget to keep asking for customer reviews here every chance you get.